AT&T Small Business Site Re-Design
I went to the AT&T Small Business website and broke down the major call-to-actions: shop bundles, buy internet service, and learning about special offers. To handle prioritization, I made some mobile wireframes as forcing content into a single column layout forces prioritization. This is an exercise I borrowed from Sophia Voychehovsky. It seemed like bundles were the main focus as it's the first item listed on the site AND the first to pop up on the current AT&T mobile site.

I also visited similar websites that offered a wide array of products to businesses, i.e. Salesforce, Deluxe, and Google Fiber. One observation was that they had a VERY clear, singular focus on one call-to-action so I put the bundles up front-and-center. Next would be links to the a-la-carte products in case the user isn't interested in bundles. Lastly, I included the carousel of Special Offer banners to make an effort to entice purchases.

As Google Fiber is popping up as a competitor, I chose to go for a very clean, modern aesthetic for the AT&T Small Business site.
Jiu-Jitsu TapApp UI/UX Design
While training for the NewBreed Brazilian Jiu-Jitsu competition in April 2015, I came up with a personal regimen where I did postmortems on each sparring match. Every time I tapped out, I rushed to Youtube to research defenses and escapes for the submission that got me. This helped improve my game fast and I came up with this idea for an app.
See the prototype here (video) or watch me present it at the Ladies that UX meetup here (video)!
Home Depot UI/UX Design
This is a mockup of an app where employees can customize their aprons.
Business-to-Consumer Chat Client Wireframe
I did user interviews on CSRs of various companies and various levels. In my research, it was apparent that the top need in a B2C chat client was easy escalation. I created a simplified layout that shows incoming messages and a panel that allows you to quickly find someone to escalate to.
Another pain point was that upper-tier support often get calls escalated to them without notes, which forces the customer to reiterate the issue and get even more frustrated. The escalation recipient would also be able to view the chat log so that s/he would have context on the issue.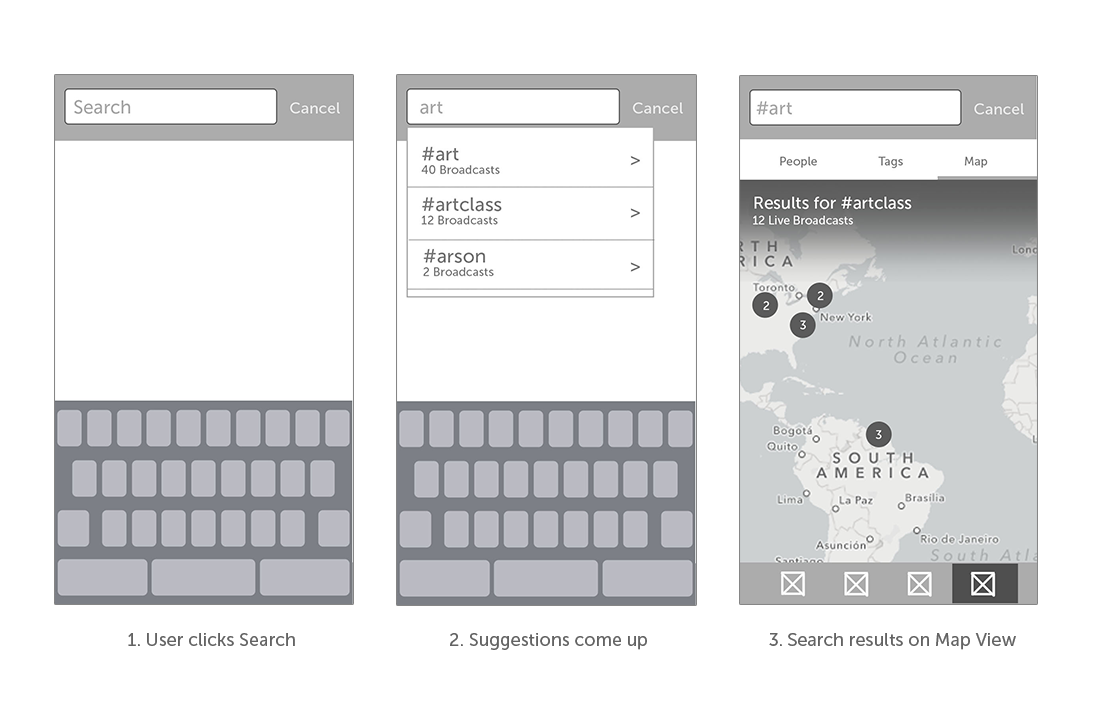 Periscope Search UX Design
These are wireframes I created in Feb 2015 for a search feature on Periscope.
Read about the full UX process for this project here!
Add User Account Page Wireframe
This is a page in a web portal that allows an admin to add a user on the enterprise account. There are three user levels that allow different degrees of capabilities. I have grouped these capabilities by function, i.e. managing fraud, modifying product configurations, and reporting access.
Astrology Mobile App Wireframes
These are wireframes for an Astrology mobile app. An excerpt from the brief:
First screen shows the forecast page where users read their astrological forecast. Users will get access to the Discover feature where they can view profiles of other people born in the same day as themselves.